TfM Weekend
Time for Marriage weekends create a welcoming and relaxing environment with everything in place for you to spend some special time as a couple investing in your marriage.
Time to focus on your relationship
We run Time for Marriage weekends throughout the year online and in different locations; we can also come to your local church, college or organisation.
Our experienced facilitator couples will lead you through sessions using biblical content and their own personal stories before allowing you plenty of time to complete some structured exercises together as a couple.
They will use examples of their own experiences (good and bad!) and encourage you to be honest together, allowing space for God to move you forwards in each area of your relationship. So, expect a warm atmosphere, laughter, media clips, real life examples and thought-provoking ideas.
Before and after each weekend we offer short consultations with one of our facilitator couples.  These meetings are to welcome you and ensure that you have everything you need before the weekend and to help you embed what you've learned at the end of the weekend.  Also during the weekend we have a unique session where you will be able to anonymously ask any question about marriage.
We offer both online and residential weekends.
Nick & Michaela talking about the impact of a TfM weekend on their marriage.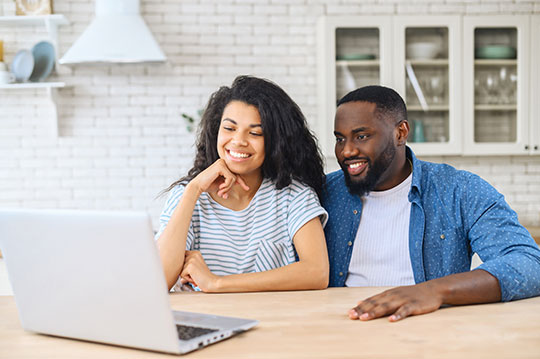 Online Weekend
Our online weekends have all the key ingredients of a TfM Weekend but from the comfort of your own home. There is no interaction with other couples at any point – videos and microphones are turned off so you're free to relax and enjoy the weekend just the two of you.
Each weekend runs from Saturday morning through to Sunday afternoon and whilst the programme is full, we do ensure there is plenty of space away from the screen. You can view the programme here.
Our online weekends cost £95 which includes handbooks and a resource pack which will be posted to you before the weekend.
Residential Weekend
These Residential Weekends are the ideal opportunity to get away for some time together as a couple. Time away just as a couple without distractions is precious and ensures you can focus on the important things together.
We carefully chose venues which will help you to feel relaxed and comfortable. We ensure there is safe space for you to discuss the different topics together in privacy.
Also, please don't worry—you are never asked to share anything personally within a group setting, you discuss each topic privately as a couple; we don't want you to feel awkward. The weekend is all about giving you space to grow together with God.
The residential weekends run for a whole weekend from Friday evening through to Sunday afternoon and whilst we run a busy programme we do try to ensure there is a little free time in there for you as well as a lovely romantic meal for you just as a couple.
Our residential weekends start at £350 which includes full board, handbooks and our resource pack.
For more information about weekends, please check out our FAQs
Invest in your marriage, book a TfM Weekend
More information…
About Time for Marriage Weekends
TfM for
Armed Forces Couples